MARC final program
Detailed program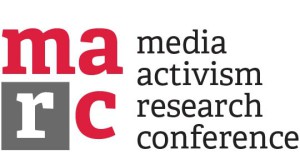 Mark your calendars! MARG is organizing the Media Activism Research Conference (MARC), in Orillia, Ontario, Canada from May 12 – 15, 2016 and we want to see you there! MARC will bring together researchers, activists, students, and community members interested in strengthening grassroots transformative media through networking, knowledge sharing, and skill-sharing.
If you are engaged in alternative, grassroots media, we invite you to join us for this exciting opportunity to develop collaborations and networks with like-minded alternative media activists who produce queer, trans, anti-racist, feminist, indigenous, and anti-colonial media with community media activist-researchers across geographical boundaries. We want to create an opportunity to share skills but to also reflect on the needs and direction of alternative media in our own communities and internationally.
Diverse forms of media activism will be incorporated throughout the week including, but not limited to: radio, print, zines, videos, online media, and digital multi-media and inter-media initiatives. This Media Activism Research Conference will work to prioritize autonomously produced alternative media by marginalized communities which is generally excluded from mainstream forms of media.
With an emphasis on knowledge co-production, collaborative creativity, and integrating theoretical frameworks into practical hands-on workshops, the Media Action Research Conference will bring media activists and researchers together to produce videos, radio shows, zines, blog entries, hacktivism, and mixed media art in order to facilitate the multi-directional flow of knowledge on media activism and alternative media among activist-researchers. We will also hold a public pop-up art exhibit that will bring together media forms created throughout the week and allow for a chance to further share, discuss and synthesize. An opportunity will also be given to propose next steps for the continued maintenance of collaborations and networks, and this information will then be investigated further in the near future through the MARG's research program.